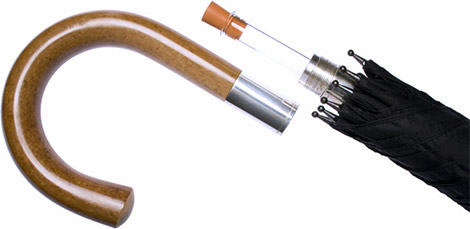 Ok so this one is more by way of illustrating the antithesis of my ideal. Sort of. This is a top end brolly from Swaine Adeney Brigg- possibly the most archaeic purveyors of overpriced, underspecified and lovingly crafted flimflammery. All jolly lovely if your idea of quality is to have had someone employ medieval techniques for hundreds of man hours over a design that hasn't changed in generations.
And frankly, yes, that sometimes is good, but what I realy want is the high tech uber design approach.
Still in the mean time check out this absurdly expensive, moderate understated, well made,
umbrella with a secret booze compartment
!